Microcement Colours
Topciment offers a colour chart with a selection of 38 basic choices. Customising your rooms has never been so easy, we make it possible; just leave it to us.
Finishes
There are several textures (see Types of Microcement) and varnishes that distinguish the final appearance and finish of our microcement.
Since microcement is a porous material, a sealant must be applied to make it impermeable and protect it from dirt.
Topciment offers 3 types of finishes in sealants:
MATE (matte):
It gives a very natural appearance to the coating, which lightly softens the colour tone.
SATINADO (satin):
It gives a medium appearance between a matt and gloss finish. It is the most popular one and gives a modern look.
BRILLO (gloss):
Brightens and enhances the colour, giving a marble-like effect.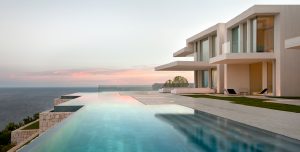 Metallic Paint
Arcocem Metal is our metallic paint par excellence which achieves natural and aged oxide effects in the decorative finish. It is made of fine metal particles.
Please believe us, the results will surprise anyone! Enjoy rooms and spaces of an original aspect with an industrial appearance.
We have a range of 4 metallic paints:
Arcocem Metal paint – HIERRO (iron)
Arcocem Metal paint – COBRE (copper)
Arcocem Metal paint – LATÓN (brass)
Arcocem Metal paint – BRONCE (bronze)
Nous disposons d'une gamme de 4 peintures métalliques :
Metallic Glazes
Within the Arcomen Metal products range, there are alternative finishes, such as metal glazes or patina.
These are pigments with a metallic effect, which do not need to be oxidised as with metal paints. They are an extra for the decoration of surfaces and achieve a homogeneous effect of metallic reflections.
We have different glaze colours:
Metallic GOLD
Metallic COBRE (copper)
Metallic COBRE RED (red copper)
Metallic ALUMINIO (aluminium)
Metallic BLANCO PLATA (White silver)
And if you still want to give an even more exclusive aspect to your room, we have the GLITTER range. It is a variation of the previous glazes with a glistening or glitter-type effect. There are three finishes:
Metallic Glitter GOLD
Metallic Glitter SILVER
Metallic Glitter BRONZE
No, our pigments behave in a stable fashion, without suffering alterations over time, weathering well the sun and the elements. +information The pigments used to make our colours are of a mineral origin. It is possible to distinguish those of mineral origin and those of organic origin. The pigments of mineral origin, behave best when faced with the cement´s alkalinity. Organic pigments (molecules containing carbon), are less stable and when weathered end up being transformed into other compounds without a pigmentary attribute, or they migrate to the surface; consequently, over time initial tones disappear almost completely. Inorganic pigments generally maintain stability in mortars and concretes.
The application of microcement is craftwork, factors such as the loading of the material, or the roller used during sealing, may cause small differences in brightness between the sample and the work. The finishes in the catalogue images are sealed with a roller, however, if the sealing is done with a paintgun a little more shine may be achieved.
Yes, you can combine the different microcement colours even when finished on the same surface; the key is to carefully delimit the surface to receive a further colour.