Several factors influence the resistance and hardness of microcement, such as the support on which it is applied, the type of microcement chosen, as well as the sealant used on the finished microcement.

We can differentiate between two types of resistance:

Mechanical Resistance
To blows: Microcement, due to its limited thickness, will deform in the event of a strong blow if the support beneath deforms. An example would be the microcement applied to plaster. If the base deforms because it has poor resistance, the microcement will deform as well. While on a support like terrazzo, the resistance will be greater.

To abrasion and wear: This resistance depends on both the microcement type and the sealant. Topciment has two seamless floor coverings: Microdeck and Microstone. Both are coatings with selected aggregates of a larger particle size than that of Microfino, which makes them more resistant to compression and abrasion. Microfino, due to its lower strength, is used exclusively for wall covering. As for sealants, although the resistance is the same, the higher the gloss, the more visible the marks of wear. Matte finishes do not reflect the light, or do so only minimally.
Chemical Resistance
To stains and liquids: The chemical resistance will depend on the sealant used to protect the product. The sealant is the final layer, which is what gives the product protection and impermeability against stains. Our Topsealer sealants have a high chemical resistance, confirmed by the various tests conducted:
Oil, cola, red wine and similar, do not leave stains after cleaning.
Both vinegar or lemon juice leave slight marks on microcement. These acids affect the surface as they would on marble, but if cleaning is done quickly, there will be no stains.
The spots of Salfuman / hydrochloric acid, pure bleach, acetone and ammonia will mark after a half hour of exposure, but if cleaning is done quickly, no stains will remain. It is important to consider microcement's texture and the difficulty of cleaning.

Mark by strong blow with sharp object on Microdeck floor
Different texture and resistance of a pavement with microcement
Waterproofing of the microcement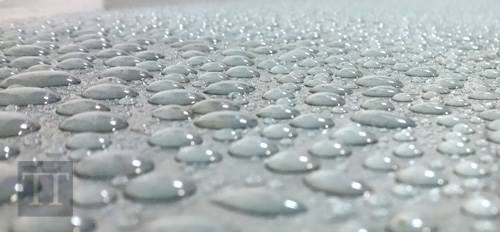 One of the main properties of microcement is its high adhesion. Thanks to this it is possible to apply microcement on tiles, speeding up the renovation and avoiding the debris of the original lining. But this advantage depends on the stability of the original tiles which must be firm not loose. In such cases, it would be necessary to use mesh to strengthen the support.
See the microcement application method on tiles in a video tutorial.
Microcement on tiles, stone or terrazzo
Optimal conditions and state of the surface to be coated
The preparation of the support is as important as the application. If the support does not meet the necessary conditions no guarantees can be given.
The surface must be level, stable, free of dirt and with a degree of humidity of 5% or less.
In the case of the support being of mortar, it must have at least four weeks to dry out before the microcement is applied, in order to account for the cracks that may appear during the curing process.
Microcement swimming pools
Topciment has developed Aquaciment, a proprietary and exclusive pool-liner system. Here you can see some examples:
Microcemento on natural wood or wood parquet
Parquet or natural wood floors have many joints; the boards expand in different directions causing stresses which are difficult to control and can cause cracks in the coating, so they are not suitable for the direct application of microcement. In such cases, it is necessary to lift the existing floor and prepare the support before placing the product.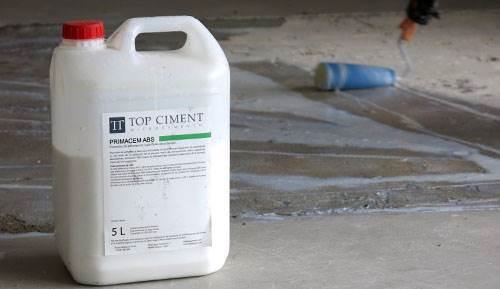 The heating protocol is as follows:
1. Turn on the heating at least 4 weeks after placing the cement mortar.
2. Maintain the water entering the circuits at 25°C throughout 2 or 3 days. Then gradually increase the water temperature to 45°C and keep it on for several days.
3. Turn off the heating for at least 48 hours before starting the microcement application. The maximum floor temperature should be 18°C.
Microcement floors should be applied to cementitious mortars that have reached an advanced setting stage. This occurs after three or four weeks drying-out, depending on the weather. In any case, it is essential that the mortar is practically dry. To achieve this, there should be a maximum of 5% humidity in the support, which must be checked with a relative humidity meter.
We recommend using quality self-levelling cement mortars.
Supports with powdery mortars are not at all suitable, since the base state for the application must be consistent, if otherwise then the base should be consolidated.
After applying the microcement, at least 48 hours should pass before the heating is gradually turned on (+5°C each day).
Always change the temperature gradually, both at the beginning and at the end of the heating period.
Make sure that the relative air humidity in the rooms is not too low.
Always avoid an accumulation of heat caused by rugs and carpets, or the lack of space between the furniture and the floor.
Important! Between the floor and the vertical faces there will always be a joint to permit dilation. Failure to comply with this indicated requirement may result in cracking.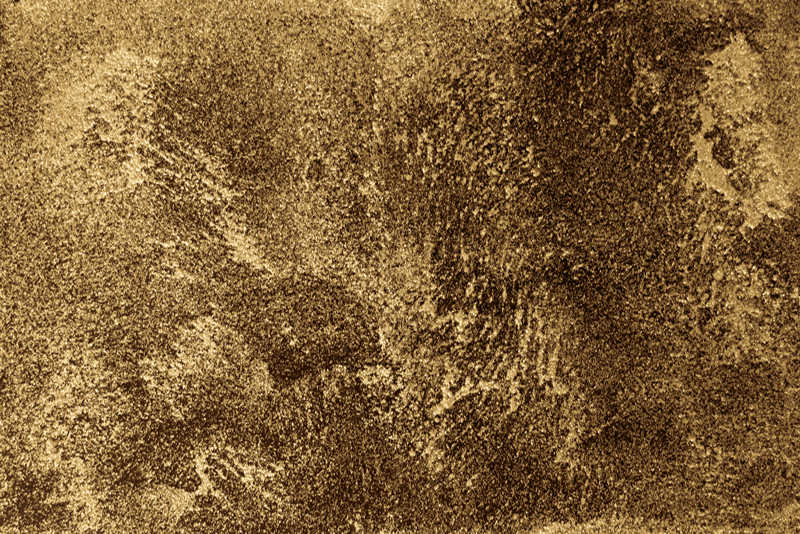 Depending on the type of micro-cement and texture employed, a greater or lesser slip-resistance is obtained (degree of slippage). From the highest to the least slip-resistance we have: Microstone for being highly textured, Microdeck with a soft texture, and finally Microfino that is not suitable for floors
The different finishes and their textures suitable for floors.
Floors are classified according to their slip resistance values: from the lowest to the greatest resistance there are 3 classes: Class 1, 2 and 3.
With Topciment Microcements any of the required classes can be achieved. Microdeck sealed with polyurethane corresponds to Class 1 but if we apply just one layer of presealer and 1 layer of topsealer, Class 2 is obtainable. If Microstone containing particles that are thicker than the traditional microcement is used, Class 3 is reached. The texture differences are apparent to the naked eye.
It is important to consider the non-slip surface characteristics and consequent difficulty of cleaning. The greater the resistance to slippage, the more difficult it is to clean the surface due to its texture.
Here you can find the cleaning instructions.
Non-slip finishes and their classification according to slipperiness
In order to limit the risk of slipping, the grounds or floors of buildings with the following uses: Public Residential, Sanitary, Teaching, Commercial, Administrative and Public Assembly, excluding areas of zero occupation defined in annex A of the DB SI, will require the appropriate class, namely Class 3
Floors are classified according to their Rd slip-resistance value. This value is determined by the pendulum test described in Annex A of UNE-ENV 12633: 2003. The Technical Building Code (CTE) and set forth in the DB SUA-1 document (Basic Documents for Security of Use and Accessibility) regulates the indices of slippage and determines the class that a surface must have, according to its use. The floor becomes more non-slip as the Rd value increases.
Floors are classified, according to their resistance value to the sliding Rd, according to that established in the following table: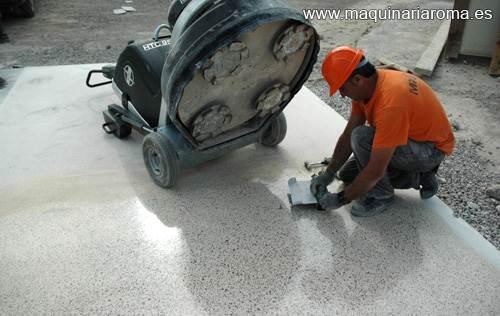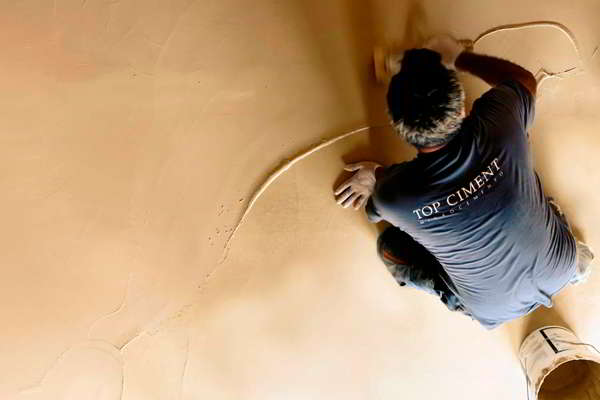 The differences between Microcement and polished cement (fused concrete) for pavements, in terms of components:
It is necessary to differentiate between cement, cement mortar, and concrete. Cement is a component of both mortar and concrete that acts as a binder. The mortar is obtained by mixing sand plus water with the cement, while concrete is a cement mortar to which gravel is added.
Although they are all solutions to create pavements, in the case of Microcement the surface is seamless and continuous, while in the case of polished cement, printed concrete or loose concrete the surface is discontinuous (requiring expansion joints).
CONCRETE
Both polished concrete and printed concrete, such as darbied concrete, consist of a reinforced concrete slab to which a surface treatment is applied to achieve the final finish. They are discontinuous pavement solutions, formed by adjoining slabs requiring expansion joints to avoid cracking.
Smoothed Concrete: In the case of smoothed concrete, mechanical smoothing is performed with either trowels, a darby or a "helicopter tool".
hormigón fratasado
Imprinted concrete: Imprinted concrete offers a patterned look made by stamping a designated area with moulds during the setting process (the concrete hardening process).
hormigón impreso
Polished concrete: On the other hand, polished concrete consists of applying a superficial treatment to achieve the final finish, but over a fully-cured concrete. It consists of a mechanical process of razing/levelling and polishing by means of which the surface is sanded down with a diamond-headed polisher, leaving visible the section of the aggregates that compose the concrete, the final appearance being like that of terrazzo.hormigón pulido y devastado
MICROCEMENT
Microcement is a mortar whose granulometry of aggregates is relatively fine, it may be applied to both walls and floors, it has an approximate thickness of between 2 and 3 mm, requires no joints and does not crack. It adheres very well to any material and is applied by a steel or rubber trowel.
MORTAR
Smoothed-down or darbied mortar would be smoothed using trowels to the right thickness; this is done manually to the plaster (a mortar layer about 2 cm thick used to coat a wall).
microcemento revestimiento de bajo espesor
In this table, we summarise the characteristics, and compare the differences, in addition to indicating the possible applications:
Characteristics Surfaces Thickness Joints Weight (kilonewton) Ideal for:
Microcement Continuous covering applied with a trowel Ceilings Walls and Doors 2 to 3 mm No joints required 0,01 Kn/m2 Covering tiles. Coating furniture. Renovation without debris
Polished or Imprint Concrete Surface treatment of concrete slab in a plastic state Floors 5 -10 cm Maximum every 25m2 (e=10 cm) 2,50 Kn/m2 Ideal for parquet and public passage. With rustic stone-like finish.
Trowelled concrete or smoothed cement Surface treatment of concrete slab during the drying process. Floors 5 -10 cm Maximum every 25m2 (e=10 cm) 2,50 Kn/m2 Smooth finish, ideal for car-parks and large surfaces
Polished concrete or Polished cement Surface treatment of already hardened concrete slab Floors 5 -10 cm Maximum every 25m2 (e=10 cm) 2,50 Kn/m2 Similar appearance to Terrazzo. Smooth finish, ideal for floors of large areas
Darby mortar for smoothing Manual smoothing of coating over plaster Floors and Walls 2 cm Maximum every 25m2 (e=2 cm) 0,50 Kn/m2
This is a coating that works with a pre-conditioning of the surface, an application of material in different layers, plus a final protection with sealant.
Each layer of material has its own time of application and drying. In addition, one must take special care in the first week (following completion of the work) as it gradually acquires all its hardness and endurance.
The care of microcement is similar to that of natural wood parquet. We advise to avoid permanent wetness, or prolonged contact with moisture. Leaving wet carpets and towels on the floor is ill-advised, as are pots that leak. The surfaces should also be kept free of stones or grit which can scratch the coating. Avoid any blows and rubbing with hard objects.
Although microcement offers a high resistance to chemicals, cleaning should be done with neutral soaps, never with aggressive or descaling products. Additionally, avoid products such as chlorine, bleach, ammonia, soaps and detergents in general, as they can damage the protective film.
Initial Care
Microcement reaches its desired values of hardness and chemical resistance one month after applying the sealer. Therefore, being very careful during the first weeks is very important, because it is when microcement it is more likely to suffer some damages. It is gently accessible two days after applying the sealer. After one week, it can be accessed normally. Do not cover the surface during the first weeks. For example: do not hang paintings or put carpets.
Dragging heavy objects over the surface is not recommended, as damage could occur. To move furniture: it is advisable to lift and support, never to drag. It is necessary to protect flooring, with lids or felts, from the pressure points of furniture (metal feet, sharp surfaces), or objects with abrasive or heavy contact surfaces.
Special cares
With the aim of not damaging the surface it is very important avoiding shock and friction with hard objects, as well as moving furniture (remember lift and drop, never drag). It is necessary to protect the floor from furniture which can damage the surface, like for example metal legs or sharp surfaces. Furniture legs must be of soft rubber which are less aggressive.
Daily maintenance
For cleaning the microcement, the most recommendable is using the products specially created for it: Ecoclean and Ecoclean Pro. Ecoclean: Ecological household cleaner. It's a very concentrated product and suitable for the cleaning of microcement. Dilute in water for its application. Important: wait at least two weeks after applying the varnish to ensure its correct curing and thus avoid damaging it. Ecoclean Pro: Professional and eco-friendly cleaner, especially suitable for cleaning difficult and persistent dirt. This cleaner is not diluted in water, it is sprayed and needs a few minutes to start acting. Other possibility is using PH neutral soaps, never harsh products. Ammonia, chlorine, bleach and non PH neutral soaps and detergents must be avoided. Never let the soap too long on the microcement to avoid damaging its protective layer. There are also certain factors to take into account, like anti slip floor. The greater resistance to slipping and a bigger grain, the more complicated cleaning is. For this reason we recommend Microdeck for interiors and Microstone for outdoors.
Periodic Maintenance
We recommend to do a periodic maintenance of microcement with an acrylic wax that leaves a protective layer. Ceraciment is a composite that provides persistent hardness and natural brightness. The frequency of maintenance depends on the daily use and characteristics of the floor If you prefer getting a more professional result, we recommend the application of Ceraciment Pro, wax for high resistance floors with a metallic finish. It also maintains the original appearance of the surface for a longer time. If you do not have these products, you can use another acrylic wax, although we cannot guarantee the same results.