Our recommendation: MICRODECK
Why?
Microdeck is the most suitable microcement for interior floors since it withstands intense traffic very well, due to its hard finish and great resistance to use, blows, scratches, etc. It permits the creation of clear spaces without joints, which are easy to clean and maintain.
Other uses?
Microdeck is so versatile that it can also be applied to stairs, steps, walls, shower trays, sinks, facades and terraces.
What does the end product look like?
Microdeck gives rooms a very natural and elegant appearance. Its texture is of a medium grain, which is why the watermark effects in the finish is reduced. It is easy to combine with other materials ... We recommend natural wood parquet floors or hydraulic tiles. You will see how modern and personalised your rooms become!
Aesthetically it looks like polished cement, but it is NOT the same. With microcement, you get more advantages:
Faster and easier to apply.
The installation requires no heavy machinery or tools.
Less work. Lower cost. Less time.
Lighter, so there are no structural loads.
For use in any room, not just ground or lower floors.
Requires no joints, and does not crack.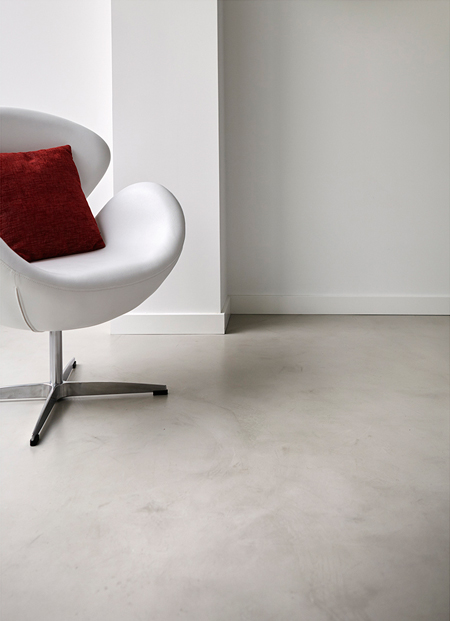 Our recommendation: MICROFINO
Why?
Microfino is the microcement most recommended for walls. It is intended only for vertical surfaces, and those with no traffic. We do not advise other uses, because it has less resistance and is not as hard as the other microcements.
What does the end product look like?
Its finish is very nice, silky and soft to the touch thanks to its fine grain texture. It generates the very characteristic and desired effect on the material.
Aesthetically it looks like lime stucco, but it is NOT the same
With microcement you obtain other advantages:
A more natural finish.
Quicker completion.
Greater resistance since it is made with a cement base.
Another recommendation: MICRODECK
Why?
Microdeck can also be applied on walls due to its great versatility
What does the end product look like?
If you want an alternative finish to Microfino, a more homogeneous one and almost without texture, but just as smooth and silky, it can be achieved with Microdeck.
Our recommendations: MICROSTONE
Why?
Microstone is the microcement most recommended for outdoor use, due to its non-slip properties and high levels of resistance. It is usually applied on terraces, porches and facades.
What does the end product look like?
Its texture resembles the appearance of stone, due to its coarse grain compounding and combination. Depending on the colour pigment chosen, the results can be fascinating. For example, if we choose the colour of slate, we will achieve an aspect of volcanic rock that will not leave anyone indifferent.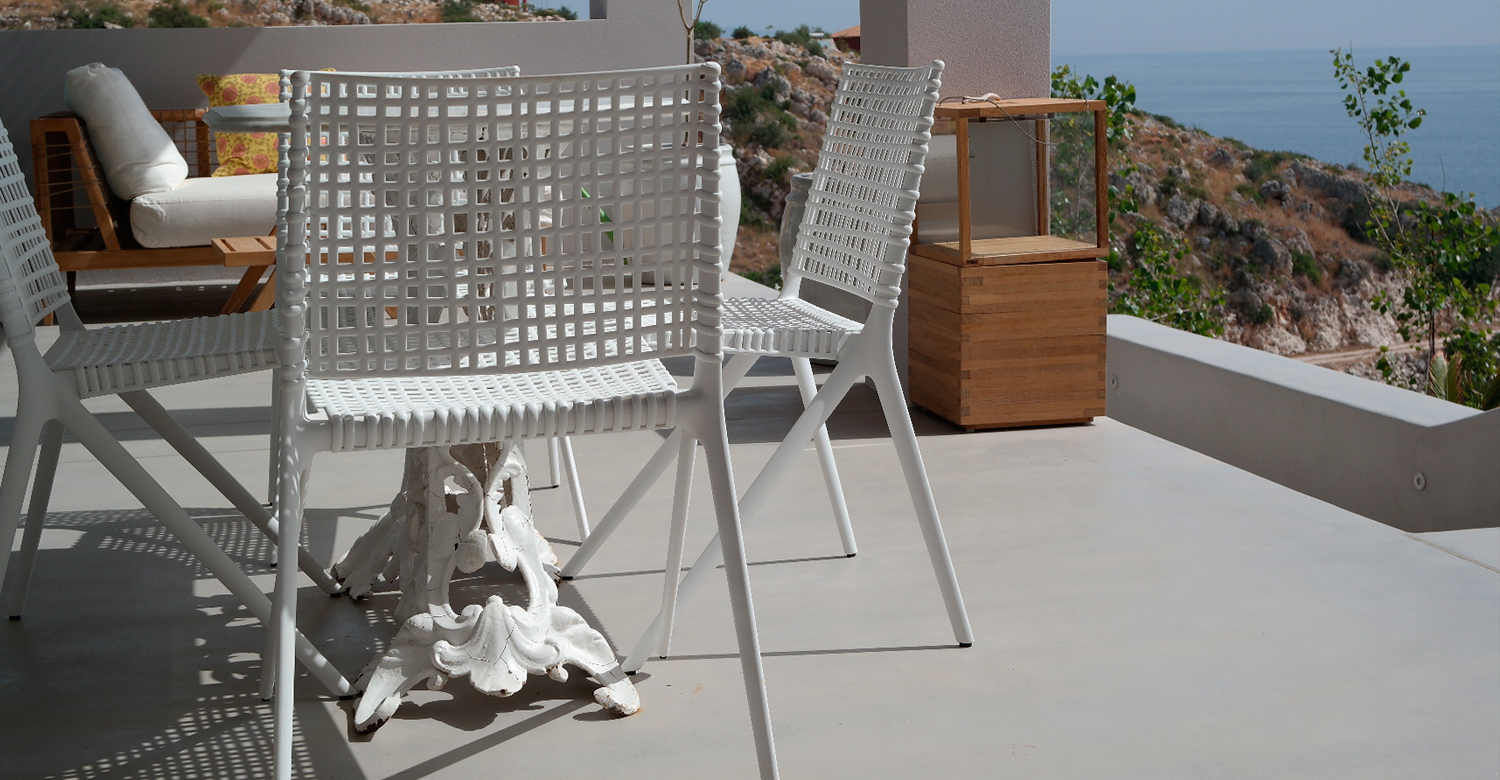 Our recommendation: MICROBASE
Why?
Microbase or preparation microcement, also called rustic microcement, is the most recommended to obtain such an effect, due to the results achieved by its characteristic texture.
Other uses?
Microbase has two uses or applications: as a base and as a finish. It is mainly used as a base to prepare the surface to be worked, it covers the mesh and gives strength and hardness to the coating. A further coating of another microcement finish is then applied, such as Microfino, Microdeck or Microstone. It does not act as a self-leveller or a filler, and should not be used for these purposes.
What does the end product look like?
If we apply Microbase as a finish, the room will achieve a rustic look, with an irregular and handmade texture. Surprising and pleasant ambiences can be created by playing with its texture, both on floors and walls.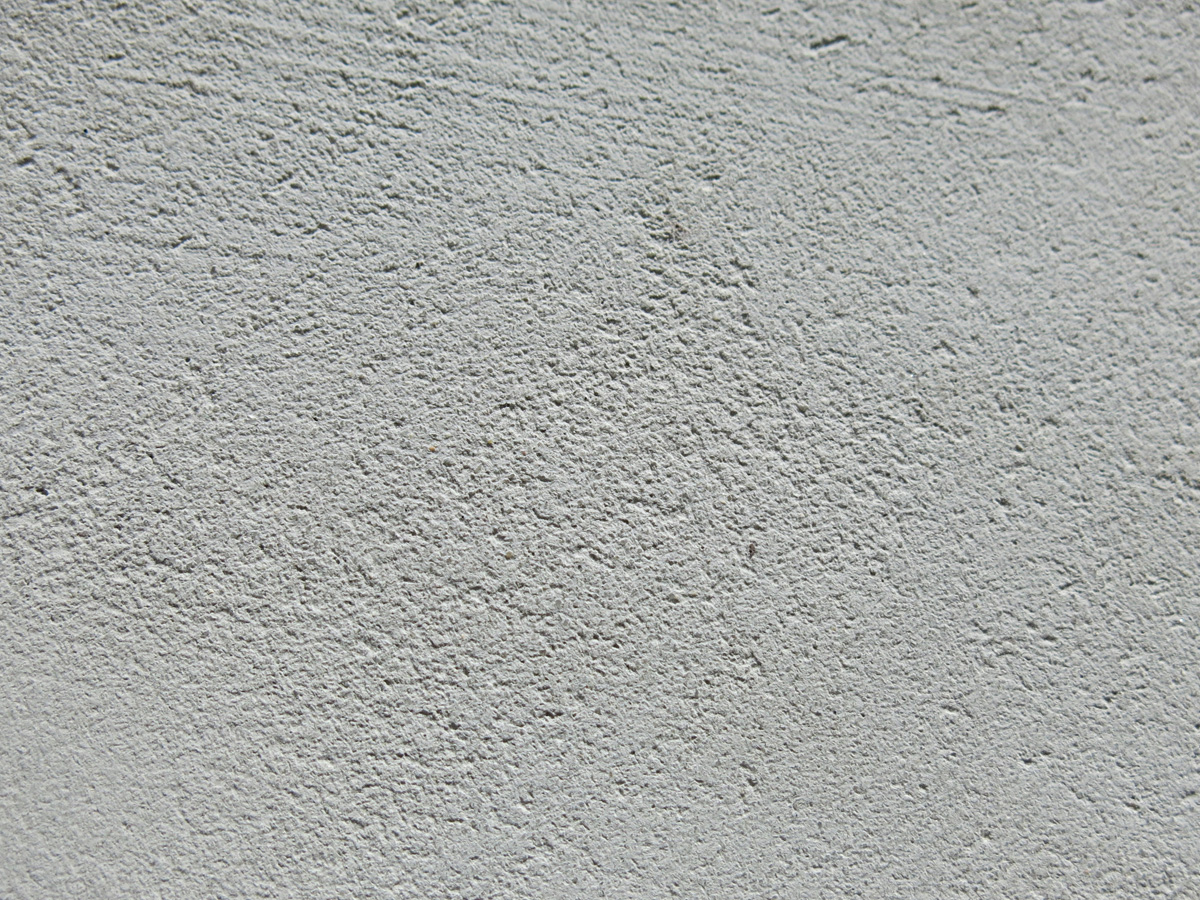 Our recommendation: AQUACIMENT
Why?
Aquaciment is the microcement recommended for coating surfaces in permanent contact with water, such as pools, ponds or fountains, both new and those pending renovation. It permits totally continuous planes without joints. Once in contact with the water, it continues to harden. Although it does not require any finishing varnish to guarantee its resistance, we do recommend its application to facilitate cleaning and all subsequent maintenance.
It is presented in two grain textures:
Aquaciment XL: Application in both base and finish. Thanks to its coarse grain both rough and non-slip textures can be employed, making it ideal for the outer edges of pools.
Aquaciment M: Application only in finishing. A medium grain texture, with a smooth finish, pleasant to the touch, which makes it ideal for the interior of pools.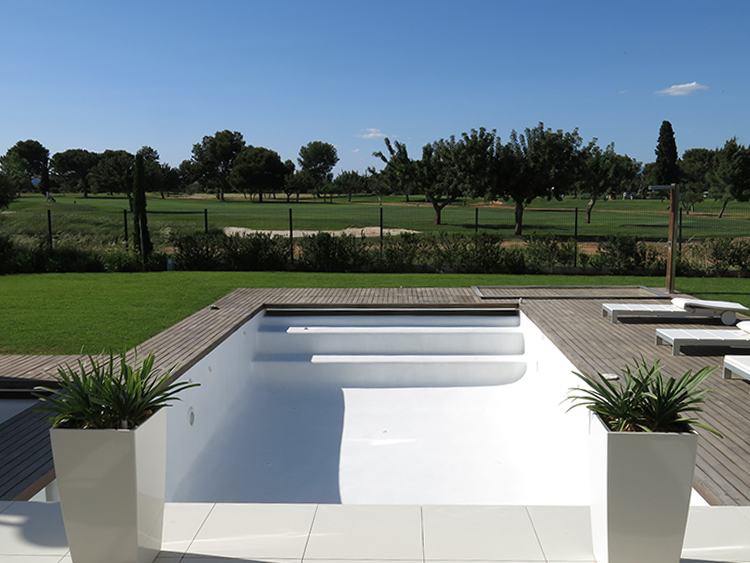 What does the end product look like?
Aquaciment allows any finishing colour whatever, there are no limits. Best of all, one can make demarcation lines or create drawings in different colours. Additionally, inlays with different materials like mosaics, shields, emblems etcetera, can be added ... A totally personalised pool!
Microcement can be applied to both walls and kitchen floors, as an alternative to tiles. Being a seamless material it is much easier to clean but, due to its rich-in-resin composition, it is not adequate when taking direct heat from sources such as pots and frying pans fresh off the heat: for this reason it is not recommended for use on kitchen countertops, unless the client understands and assumes this risk.
The application of fibre mesh is always recommended, especially on tiled floors and walls, as with the joints between plasterboards. It is used to reinforce the microcement base and to prevent fissures due to any stress on the microcement. Obviously, the operator has the final decision whether to use it or not, but if not added, a warning should be given of the potential problems.
Much depends on the climatic conditions; relative humidity; room temperature; whether it receives direct sunlight; whether it is an open space or a closed and humid one, such as a bathroom, etcetera. However, it is recommended that as much time as possible, so that white spots do not form because of the first sealing layer still being wet. Microcement cleaning & maintenance First days care Micro cement reaches its desired values of hardness and chemical resistance one month after applying the Sealer. There is increased risk of damage during the first two weeks. It is gently accessible after two days. After sealing it can normally be accessed after one week. Daily maintenance For cleaning use neutral soap, never harsh detergents or descalers. Never let the soap too long on the microcement. Alkaline products such as ammonia, chlorine, bleach, detergent etc. damage the protective layer of the Microcement. Maintenance is similar to that of a wood parquet floor. It is advisable to avoid permanent flooding and prolonged contact with moisture. You must therefore avoid wet carpets and towels on the floor or e.g. flower pots that spill water. Keep the surface free of stone or sand, which can leave scratches. Grit and dust in excess are causes of wear. It is advisable to place a doormat. Avoid shock and friction with hard objects and dragging heavy objects to avoid damaging the surface. To move furniture "lift and drop" never drag. It is necessary to protect the floor (metal legs, sharp surfaces), furniture and objects with abrasive contact surfaces or significant weight with furniture protectors or felt. Furniture wheels must be of soft rubber which are less aggressive than the hard plastic wheels. The greater the resistance to slipping, the more complicated cleaning is because of the textured surface, so it is important to assess what the non-slip need is on the floors. Micro deck is suitable for most cases where a class 1 is required at most. We recommend Microstone outdoors because then that can be cleaned with a high-pressure cleaner. Daily maintenance We recommend the maintenance of microcement with an acrylic wax that leaves a protective layer. There is no specific machinery needed. We recommend the use of a mop for the correct application of the wax. The frequency of maintenance depends on the daily use of the floor (traffic, dust, etc. ..).